About me
---
Hello! My names Hunter and I'm a 27year old fluffy wolf with wings. (Not to be confused with wolf-dergon).
I love fluffy things, swimming, going to conventions and playing on my PC and VR.
I have been doing Art my whole life, although mostly Traditional Art up until 2019 where I've started with digital art..My work is completed between my full time job and life activities.
Currently I am trying to focus on my Digital Art skills to bring your dreams to beautiful Art.I'm currently located out of Ontario, Canada.Art by me, Photo of myself, Art by Xeshaire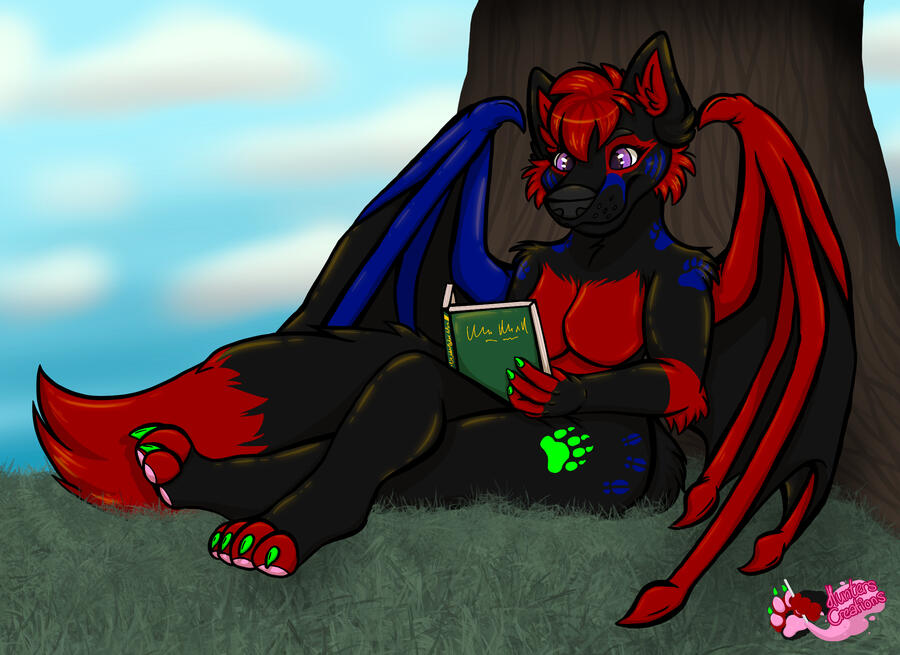 General prices
Last review: August 2023
Next review: End 2023
---
I do offer SFW and NSFW.
No extra cost for NSFW.
Extra Characters- 100% extra
| Commission Type | Flat Colored | Cell Shading | W/Background |
| --- | --- | --- | --- |
| Full body | 50.00 | 70.00 | 90.00+ |
| Waist Up | 35.00 | 55.00 | 70.00+ |
| Neck Up | 25.00 | 40.00 | 50.00+ |
---
Make it a badge!
---
Make any Lined, Flat or Shaded art a digital badge free!Make any badge physical for 10$ + shipping!Illustrations not available for this.Shipping prices:
International w/clip: 10$
International w/out clip: 4$
Domestic (Canada only): 3$
---
REFERENCE SHEETS
---
| Ref Sheet Type | Price |
| --- | --- |
| Single View | 50.00+ |
| Two Views | 85.00+ |
| Three Views | 120.00+ |
| Extra Item | Price Range |
| --- | --- |
| Headshot | 25.00/ea |
| Weapons | 20.00/ea |
| Clothing Views | 35.00/ea |
| Props | 20.00/ea |
Ref Sheets can include
Color Palette

Tail

Paw

Mouth and Tongue

Marking Detail

Small "like" and "dislike" images
Here is a link to my Queue
Last updated: January 2023
1. General
I reserve the right to decline or refund any commission for any reason.Must be 18+ to commission NSFW art. (ID will be required before payment).All commissions will be added to my trello. If you don't see yourself, please let me know through DM's or email!
2. Requirements to commission
A full flat colored image is preferred for commissions to use as reference.Text descriptions are available but details on what is wanted and pictures are required. A quick google hex code/image will be required for color schemes.
Additional fees may be required.
3. Wip's/Progress
All work in progresses will be posted on my Telegram if I get the chance to.You will be provided with a WIP for each phase of the art before I proceed to the next.Commissions will be completed usually in order that they are received unless rush fees are provided. Usually 2-8 weeks for average commission.
4. Payment
I accept payment through Paypal, Ko-Fi, and Square. E-Transfer only available for Canadians.Full payment is required before your art is worked on.Payment plans are accepted, however it depends on the price and what the commission is.
5. Rush Fees
With rush fees, you will be pushed to the head of the queue depending how soon you need the commission.Rush fees will only be needed if you need the commission before my estimated time frame.Rush fees can be anywhere between 50-100% extra on top of the commission price.
6. Refunds
If no progress is made past the sketch a full refund will be provided.Any progress past sketch phase will result in a partial refund. Amount refunded depends how much work is done.If I want to cancel the commission for whatever reason a full refund is issued and I reserve the right to use anything worked on for another project.There are no refunds once the commission has been completed.
Frequently Asked Questions
---
WHAT IS HUNTER?
Hunter is a Wolf (Canis Lupus) with Dragon Wings. She is not a hybrid, she just happens to have the wings.
WHAT ARE YOU DRAWING ON?
Huion Kamvas Pro 16
11 inch Ipad Pro with a Gen 2 Apple Pencil.
I would recommend both devices for any art you are wanting to do. I loved using my Huion and adore my Ipad. The Ipad just happened to be better for me.
WHAT PROGRAM ARE YOU USING TO DRAW ON?
Clip Studio Pro
Procreate
Again, I would recommend both programs depending on the device you have. I loved Clip and adore Procreate.
HOW LONG HAVE YOU BEEN DRAWING FOR?
I have been sketching since I was a child. I used to do it in class. Since about 2019 I have been drawing digital art after being able to purchase my previous Wacom Tablet and Huion Tablet as well as now with my Ipad Pro.
DO YOU HAVE A PATREON?
I do not currently run my Patreon. If I get more content for it, I may turn it back on in the future.However I do have a Ko-Fi account that has commissions and subscriptions available!
WHERE ARE YOU FROM?
I am from, and currently live, in Ontario Canada.
I accept commissions via Email, Discord, Telegram, Twitter and Facebook. Anywhere that I can be contacted.When contacting me to inquire about a commission please include the following information:
- What you would like to commission:
- What your character(s) name, and gender/appearance
- Paypal Email Address or how you willbe paying
- Expression/ Pose or Artistic Liberty
- Best way to reach you